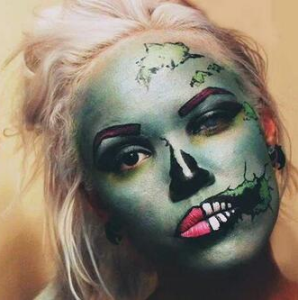 Lot's of our clients like to look pretty, but scary at the same time, after all Halloween night is still a night out! The Zombie Barbie is perfect for that! It's mixing classic Barbie beauty with animated gore which is fun but still very pretty.
Face:
Use a grey green base all over the face, we recommend Kryolan Aqua Colours. You want your Barbie to look pretty but decayed. Draw in some scabs and cracks using an eyeliner or a black Aqua Colour. Also draw in some cracks and holes in the nose.
Eyes:
Keep to the very girly pinks and purples for eyeshadow. Add some lashes and contacts for added drama.
Lips:
Bright pink lipstick on the side you want to keep more normal. Then draw in teeth along the otherside for the "exposed mouth" side.