Where did the love of makeup begin? 
I was a huge fan of Madonna and Prince when I was younger. I loved the theatrical and transformative way they used makeup.
Dressing up at Halloween was always fun, it sounds funny to say now but I can remember using Sudo cream to make my lips pale pink when I was 9 or 10.
I wore eyeliner as soon as I could get my hands on it.
What inspired you to become a makeup artist?
I found at a point in my life in my thirties, driven to seek out something that would allow me to express who I felt I really was, I'd no idea what that meant but I knew I wanted to explore what interested me.  What interested me was people, people that I didn't know at the time, that leaned towards artists, performers, people with a similar perspective on the world to mine.  Makeup wasn't immediately obvious, it was only when I came across a magazine cover showing the work of Alex Box and diving into her world, that I almost instantly felt like this was it before I'd picked up a brush, I was fascinated.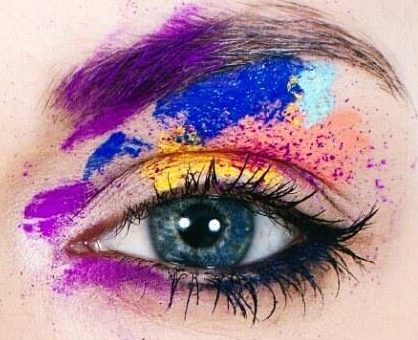 DID YOU EVER REGRET TAKING THE LEAP INTO THIS CAREER? 
It is funny, I never had any fears about doing makeup.
I was excited! It felt natural like I'd found a way through an invisible door that I'd been searching for.
The only fear I felt was the how I was going to make a living as a working makeup artist.  Up until that point, I had only worked in office jobs.
WHAT IS THE HARDEST PART ABOUT BEING AN ARTIST? 
Allowing yourself to fail in order to grow.  I guess you could apply that to life in general.  From a makeup artist view, there are many aspects to my profession, I have clients and I have my own personal artistic outlets.  Trying to be perfect in what you deliver can be something to overcome and realising that you learn through making mistakes and being in different situations.
WHAT IS YOUR FAVOURITE PART OF THE JOB? 
I don't have one single favourite part.  I suppose that is my favourite part, having more than one type of client, more than one style of makeup, I meet lots of different people in different jobs, from weddings, to shows, to shoots to commercial jobs.  No two days are ever the same.  I'm very grateful to be working with a team in EF Creative Studios, it means we can support & learn from each other.