So you're hair and makeup is done and you are feeling fabulous and  ready to go. Now the only thing you need to do is make sure you are looking and feeling this great all day long. Preparation is key so the first thing you need to do is pack a mini touch up kit to have with you on your big day. You don't want to be lugging around a huge beauty kit, but you definitely don't want to be stuck without something vital. Choose a small clear plastic makeup bag to make sure you're not wasting time on the day faffing around trying to find what you are looking for. Have one of your bridesmaids pop it in her handbag, or leave it at your reception venue to ensure it's there when you need a touch up. Here's the lowdown on what you need to bring to ensure you are looking on point all day long: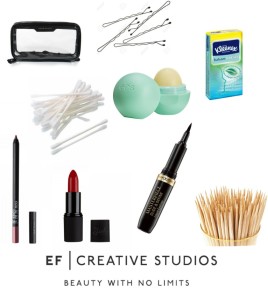 1.Compact Mirror:
A compact mirror is essential for all the following tips. On the day you won't always be able to run to the bathroom so you will need a mirror with you for those touch ups in the car or between photos.
2.Bobby pins and a Small Hairspray:
Facing the Irish elements are a nightmare for any bride. If you are lucky enough to get a dry day chances are your luck will be counteracted with either wind or humidity. To make sure your style lasts all day give your hair a quick touchup with hairspray, and pins if you need it, every couple of hours.
3.Tissues:
These guys are multifunctional. Pack a pocket-sized packet to wipe away any unplanned tears and they're also handy for wiping away any lipstick that might have gotten on your teeth. Speaking of which, anytime you take out your compact mirror make sure to smile at yourself to check the lipstick on teeth situation. Your guests might be too polite to tell you!
4.Cotton buds:
Cotton buds are ideal for cleaning up any makeup that has strayed during the day, without messing up a large portion of your face. Run the cotton bud under your eyes to pick up any fall out from your eyeshadow or run around your lips to wipe off any misplaced liner.
5.Toothpicks:
Yes the sauteed spinach was a great choice for you wedding menu, as long as none of it ends up in your teeth. I know you've probably happily spent your whole life without ever having the need for a toothpick, but Murphy's Law says the day that you'll need one will be your wedding day.
6.Lip balm, Liner and Lipstick:
As we all know lip makeup is always the first to wear off. Decide on your liner/lipstick/gloss combo before the wedding and use it in the weeks coming up to your wedding. This way you'll know how often they fade and the best way to re-apply.
7.Breathe mints:
This is the day where you will be hugging and air-kissing more than any other. The last thing you want is for your guests to be left with a foul whiff as the blushing Bride greets them. Pop in a breathe mint regularly and also make sure you are sipping water on the day – dehydration leads to bad breathe!
8.Eyeliner pencil:
Before the big day you need to decide if you're going to keep the same look for the whole day, or if you are going to darken up for the evening. If you decide to apply a bit more before your reception, run through what you'll need to do with your makeup artist beforehand and practise in the run up to the day. And if you're topping up mascara make sure you use waterproof, those speeches can get to the best of us!
If you're opting for the same makeup for the whole day, your liner on your waterline and tightline is probably the only thing that will need touching up. A nude or white liner will brighten up your eyes, whilst a black will give you a more sultry cat-eye look.
9.Blotting sheets or powder:
If you are prone to oily skin then blotting paper or translucent powder is a must. Make sure you keep your forehead, chin and nose matte, whilst your cheeks and and temples can afford to have a bit of a glow. If you opt for a powder instead of blotting paper make sure you also remember to bring a brush, there is nothing worse then going in to combat an oily face and realising you have forgotten half of what you need!
If any married ladies out there have some tips or tricks for our brides-to-be please let us know!