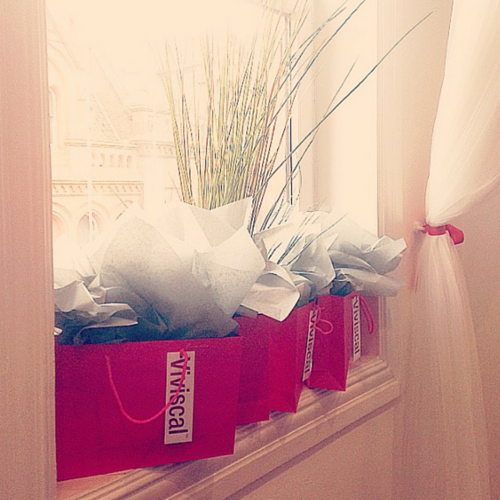 We were so impressed with the event were invited along to to celebrate and Viviscal's new Gorgeous Growth Densifying Range. It took place in the fabulous Fallon and Byrne and the setup could not have been more up our alley! As soon as you walked in you were greeted by a sea of pink and a glass of bubbly. The room was divided into sections with a door connecting the two to demonstrate the benefits that their new range offers on the inside and out. This was such a clever idea and gave a real wow factor to the event.
On one side we were introduced to their range of supplements that can be taken to nourish and promote hair growth from within. There are a lot of factors that can contribute to hair loss including hormones and over-use of straighteners/curlers (we're definitely guilty of this one) and the supplements, which contain all natural ingredients, gives all of the important vitamins needed for hair growth and fuller, thicker hair.
We were then brought through the door and introduced to more products from the range. This included a beautiful smelling shampoo, conditioner and a densifying elixir that all promote growth from the outside. We can't wait to see the results over the next few weeks.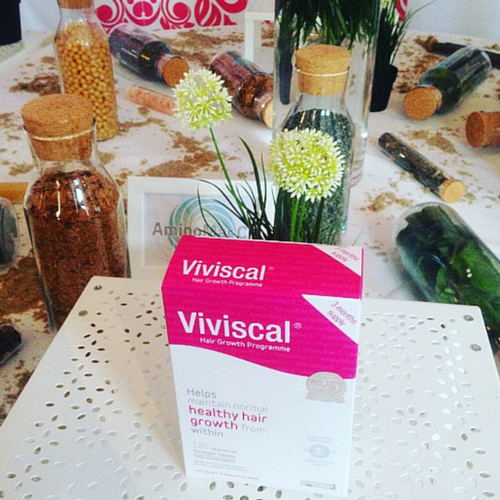 The best part is that Viviscal is an Irish based brand part of Lifes2Good in Galway and we are delighted they are doing so well. Their supplements have been voted the #1 best selling hair care supplement in the US and with celebrity backing from the likes of Reese Witherspoon and Gwyneth Paltrow we don't think we'll be disappointed!