Valentine's Day doesn't have to be confined to all the lovebirds out there, we can't think of a better time to spread the love with all of your family and friends. With restaurants and hotels getting booked out weeks in advance the trend of Valentine's parties at home are becoming more and more common. If you like the idea of entertaining all of your favourite people, single and loved-up, then listen up as we give you our best party ideas for the most lovely night of the year.
Decorations:
The key to having a good Valentine's party is having the right ambiance. Think cute heart confetti and lots of candles. Stick to the red and pink theme to avoid going overly bridal, and don't think that you have to cash out on the most expensive themed decorations. DIY is more rustic and homely, and if you have kids this is the perfect way to occupy them for a couple of hours. Below are some images of our favourite DIY decor ideas.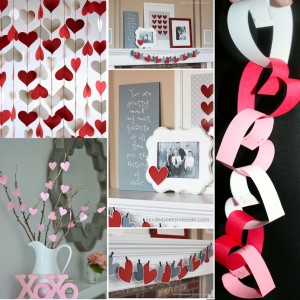 Food:
When it comes to food it's time to think all things heart-shaped. It's better to stay away from the sit-down dinner to avoid your evening becoming altogether too romantic, so instead create a table full of cute Valentine's themed treats. Again there's no need to raid your local delicatessen or bakery for their Valentine's themed confectionary, it's just as easy to make these delights at home, no michelin star needed. To decorate the table, think loveheart sweets, heart-shaped marshmallows and even pink sprinkles (if you don't mind cleaning up the mess afterwards). When it comes to drinks pink champagne and strawberry smoothies for kids are always a hit.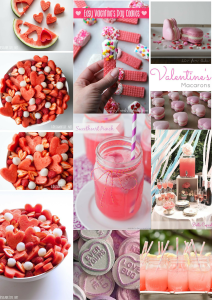 Love Postboxes:
It is Valentine's Day after all, so it's nice to being a small element of romance to the evening. Ask your guests to get creative and make Valentine's postboxes out of old cereal boxes (or just bring a large envelope if they're too cool) and bring at least one Valentine's card for a fellow guest. Don't worry the blushing and cringing will be worth it, everyone loves a Valentine's card. If your party is a female-only affair then get your guests to bring a thank you cards for their besties, women appreciation is always welcome. And to ensure you are the hostess with the mostess let everyone post their cards first, before you fill up the more empty boxes.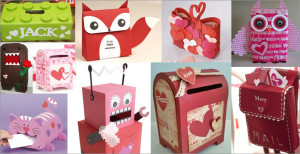 Music:
When it comes to your Valentine's Day music there's no better day to go all out cheesey. Think 80's power-ballads, 90's pop and everything James Blunt. If things go very well you can choreograph your imaginary First Wedding Dance with your friends (this will probably come a few pink champagnes down the road).
So there you have it, a full-proof guide to hosting the perfect Valentine's soiree. If you still aren't convinced that a party is the way forward, booking makeup appointments with your besties is the next best thing 😉