Pro long wear Paint Pots in Painterly
Unless you've been living under a rock everyone has heard of the hugely popular Pro long wear Paint Pots. These are stables in every makeup artist kits and are a great basic to have. We love the colours Painterly, Soft Ochre and Groundwork. Maybelline colour tattoo shadows were released in the US in 2014 and this is the first time we've seen them over here. While they look different colours in the pots the colour payoff is oddly similar. The pink nude Maybelline crema de rose or number 91 is matte so is a dupe to be reckoned with. It is a dead ringer for painterly.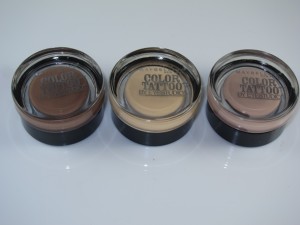 Pro long wear Paint Pots in Groundwork
The leather effect creamy beige or 98 has a teeny sparkle to it (not noticeable on eyelid) but did see it on my arm and this is a twinny for Groundwork. They are great for colour correction as they are nudes so not too exciting and also excellent to be used as a base.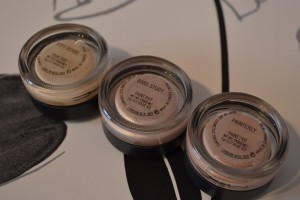 Pro long wear Paint Pots in Soft Ochre
This is a great colour for the lucky sallow skinned girls. Maybelline Color Tattoos in Just Beige is a super match for this albeit a small bit warmer than the original. Its matte too so no sheen or sparkle to it. For a massive €14.50 saving it's well worth checking out.
These colours are as close as we could find for our lovely readers but if you have anything that's even closer let us know.