Maybelline colour tattoo mattes- Crème de rose & creamy beige – €7.50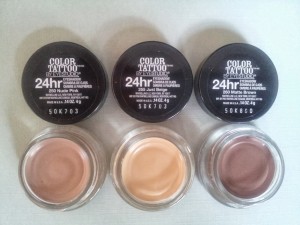 This is my favourite product…pretty much..ever. It is so like MAC paint pots Painterly and Groundwork it's a little hard to believable. I wrote a dupe article last year about these little gems and they had been discontinued so you can imagine my excitement when I saw them in Boots. The crème de rose is perfect as a base or nude colour for the very pale where I found the creamy beige is great for emphasising the socket to create a beautiful crease. A must have for your makeup bag.
2. Natural collection translucent powder – €5
This is a brand which due to its plain packaging and low prices is usually over looked. This powder is a pleasant surprise. It's fine and won't sit in any fine lines. Another gem from this brand is their clear mascara, a wonder for holding unruly brows in place.
3.Strobe cream travel size – €10
Ok so this just hits the mark at €10 but it's totally worth it. This product is like a miracle in a tube with green tea and mineral pigments which bring dull skin back to life and with extended use will improve the condition of your skin.
4.W7 absolute lashes mascara -€ 4.65
This is a fantastic dupe for Benefits They're Real mascara. The brush is spot on just like the results. The formula of the liquid gives long and separated lashes and the packaging is so close to the real deal it'll make you do a double take.
5.Seventeen Instant glow Shimmer brick by boots – €7.50
This has been recommended to me so many times I've lost count. It is a great alternative to MACs soft and gentle. The pigment is amazing and its lasting power is nothing to be sniffed at.
6.Makeup revolution highlighters – €3.65
I was a little dubious of this at the start but I must say I have been converted. This brand is really a great find and the quality for the price is unbelievable. Pigment is strong while not powdery. Even more impressive this highlighter comes in three shades. Pink, peach and golden.
7.Collection 200 concealer – €5.49
Water resistant and transfer proof for up to 16 hours. It is award-winning and has become a firm favourite among makeup artists and makeup addicts alike.
8.NYX matte lipstick – €7.50
These are an absolute bargain. The staying power is second to none and it's non-drying which means you won't look zapped of moisture. With 27 colours to choose from the biggest problem is controlling yourself.
9.Essence lip liner – €1.69
Don't be fooled by the affordability of this range. Essences are cruelty and vegan free which is a major plus these days. The longevity isn't outstanding but is still pretty good. A top tip for this product colour your whole lip with the liner and then apply your lipstick this will make sure you have lasts extra-long.
10.Garnier micellar water – €2.50 -€10.50
They only thing about this water that grinds my gear is that is it so widely available it is literally a different price in every shop. I've seen it sold for €2.50 and more recently say it in a shop which will remain nameless for a shocking €10.50. This is great as it really works for those with sensitive eyes and skin. Very handy for those lazy nights.