Halloween is almost here and it's time to get those creative ideas flowing! Personally Halloween is our favourite time of year. We love the freedom to become whatever you want for a night and to be honest ….the more unique the better!
We have collected some of the most requested looks for this year and will give some tips on how to create them as simply as possible. These looks can be achieved at any makeup level. They are no means just for the Van Gogh of makeup artists. It's meant to be fun…the pictures provided are just guidelines feel free to stay as close to them as you like or use them as a mere template and do your own interpretation.
First up in our Halloween series is Poison Ivy!
This is a gorgeous look. It's a fantastic mix of villain and stunning beauty. You need a red wig to create this signature look, there are a number of options online, or alternatively try joke shops or theatre supply stores. If you are in Dublin like we are, you can try Moore Street off Henry street which has some great value wig shops.
Start off with your base, this can be the same as your usual foundation, contour and highlight. There is a heavy winged liner on top of a nude opal colour. MAC Nylon would be perfect for this and Mac Saddle will create the shadow to make you eyes look bigger. Line under the eyes with a dark green for emphasis.
The red brows are a fantastic touch and is so easy to achieve. Apply a red pigment to the brows. Use Gosh and Mac cranberry mixed together. Apply as if you're doing your eyebrows normally, follow your own shape.
Using a small fluffy brush start to contour around your face with an olive green, mixing this with a tiny bit of gold will lift it … the trick here is do it lightly and build it up. Go too dark and you could end up like a pretty Hulk. You can bring the green down into your forehead leaving a small gap between that and your red brows.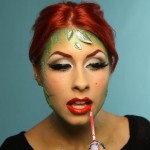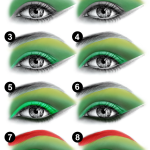 Drawing the ivy vines is simple enough. Using a skinny liner brush apply a slightly darker green and white to create the stalks. If you have any Christmas decorations within easy access you could take some leaves off an arrangement for instance we have a candle holder which has leaves, figs and berries on it. Using one or two of these leaves and colouring it with the eyeshadow you've been using for contour will transform this into a beautiful centre piece for you head. You can add glitter to this. You can glue this to the skin using clear DUO glue.
Finish off with a pillarbox red lip and some full lashes. You can contour your collar bones using the same green/gold mix depending on your costume. Poison Ivy is stunning and certainly doesn't shy away from attention so don't be afraid to be dramatic!.