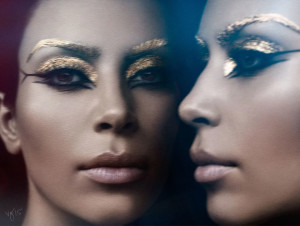 Pat McGrath, the name itself is synonomous with Makeup. A legend in the fashion and makeup world. Even if you haven't heard of her you have probably seen her work on the catwalks or in the high profile advertising campaigns that she does. You may have even used a product that she designed in her role as Covergirl Cosmetics Creative Director or the other brands she consults with. She is the brains behind Dior Show Mascara one of the best selling mascaras in the world.We got some exciting news in EF Creative Studios HQ, McGrath is launching a eponymous makeup line. She released a limited quantity of exclusive one-off pigments, known simply as Gold 001 in October 29 2015. It made its debut on the runway for the Spring 2016 collection at Prada and was also used on Kim Kardashian West during a photo shoot. One word. Gorgeous.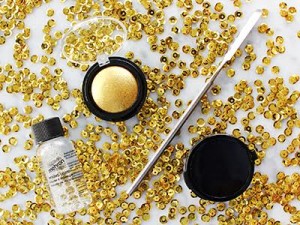 A countdown clock appeared almost instantly following this news on her website, followed by a barrage of gold-inspired Instagram posts. Only 1,000 pieces were released for sale on patmcgrath.com so the stampede got crazy and unfortunately there were gone in an instant. Sad face. The limited amount idea wasn't not an attempt to generate hype it was simply the largest quantity the lab could produce in such a short space of time. It seems the pro is a lady after our own hearts as she admitted "It can take years for a product to come out; I had to have it now!" And while she is developing a complete makeup line, out in late 2016, she won't be holding back until she's completed it. She plans to release her latest products as they arise which is unheard of but so exciting. This will allow the lucky people who get their hands on the items to get inspired while seeing what Pat does with the products herself.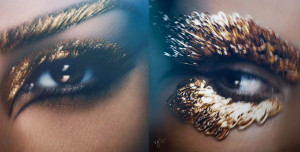 The pigment is like a micro fine glitter which can be blended with everything from brow gel to mixing liquid, water, eye primer for a high-impact foil finish, you can even add it to your moisturizer. Its intended to be an everything product which you can use anywhere eyes, shoulders, legs, cheekbones, lips its entirely up to you…as we all know makeup doesn't have rules and neither does this. The pigment along with a metal spatula, mehron mixing liquid and a second mixing container arrives buried inside a bag…wait for it! Buried yes buried in hundreds of sparkling sequins. On how she came up with the amazing packing, "I thought about how I would love to receive it. What would make me smile and what would bring a glow to my heart." A throw back to the sequins that McGrath used to create the superb facial masks for the Givenchy runway, it would be a shame to not use these amazing packaging fillers to create something inspiring that Pat herself would be proud of.
This pigment is full on glamour and is perfect for editorial or high fashion catwalk looks. Sadly we missed out on getting our hands on her product Gold 001, but we wait in great anticipation for for the next product she launches!!