Organic Surge has landed in Ireland. This affordable brand offers a range of skincare products which are NOT tested on animals and are 100% free of harsh chemicals – no artificial fragrances or colourants and no genetically modified ingredients. The products are natural, luxourious and enriching – without the huge pricetag.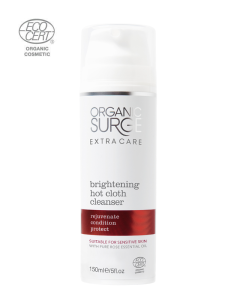 The brand offers a range of products from shampoos and conditioners to deodorants and cleansers and every skincare product you can imagine in between. All of their products are certified organic by the Ecocert certification. And if all of that wasn't enough, you can also count buying an Organic Surge product as your good deed for the day. Every product sold from their Extra Care range goes towards helping Freedom from Fistula. This charity helps thousands of women each year by providing free surgeries to heal their fistulas.
What's our favourite product from the range? We have to say we have been taken by the Brightening Hot Cloth Cleanser. This cleanser suitable for sensitive skin easily removes makeup and rejuvenates the skin, leaving it brightened and soft. If you are a fan of the Liz Earle Hot Cloth Cleanser but don't love the price tag quite as much, we would definitely recommend this cleanser for you. The only fault we can pick with this product is that a cloth isn't included so you will have to pick up one of your own facecloths.
Organic Surge products are available nationwide in Allcare Pharmacies.