Stuck for a present for the man who has everything? The male cosmetic industry is on the rise and the latest brand to launch a fantastic men's range is our favourite go-to skincare brand Nuxe.
No longer confined to women's bathroom cabinets, we are now starting to realise that skincare for men is just as important as it is for their female counterparts. Men's skin is different to women's; it is oilier and thicker and encounters more aggressions. This is why cosmetic brands are designing ranges specifically for male skin.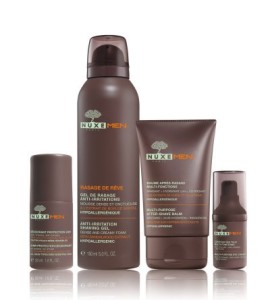 Nuxe Man is a selection of products designed to suit every man's needs. The range includes  a men's shower gel that gently cleanses the face, body, and hair; a deodorant that provides 24-hour protection; an after-shave balm that soothes irritations and provides intense moisture; an eye cream; and a moisturizing cream.
The best thing about all Nuxe skincare is the quality of the ingredients. This range includes natural, origin extracts of Oakbark and Sandalwood which energize, moisturise and keep your skin matte, while also keeping it soft and comfortable. And they make him smell incredible too!
The products are packaged in a sleek, masculine design in dark brown with pops of orange, which are sure to look at home in any man's wash bag. The products are easy, effective and quick to use, perfect for the no-fuss man.
What's our top pick from the range? It has to be the moisturising cream. Add this to his daily morning routine and we promise neither of you will be sorry!