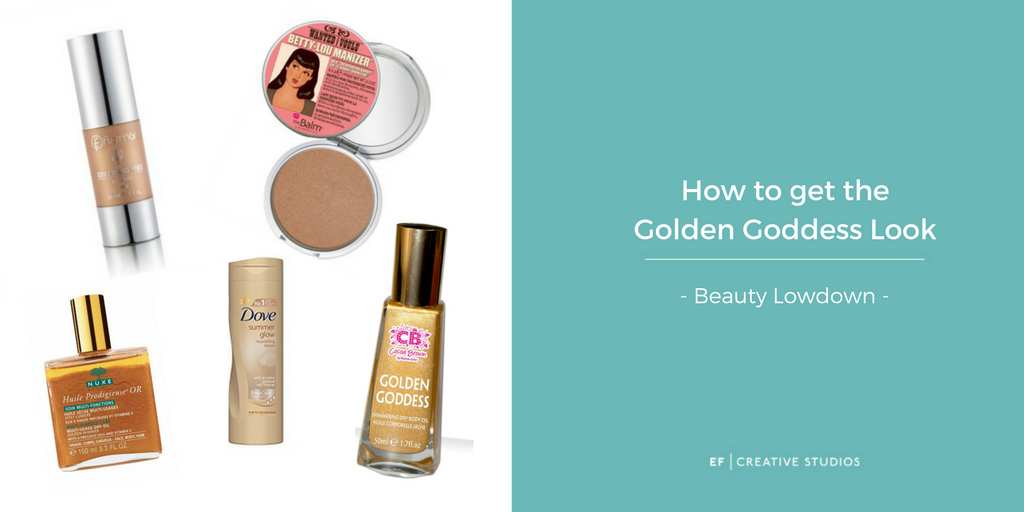 The sun is out, the evenings are long and beautiful with gorgeous sunsets gracing us each evening, so we want to try and look as much like golden goddesses as we feel in this weather. It's very easy to upgrade any Makeup Look from a regular every day look to a beautiful golden and glowing one. Here's a few simple ways to highlight and glow this summer..
Before you apply your makeup and primers etc.. in summer a great way to look golden and have that beautiful beach glow is through liquid luminisers and bronzers. There are so many to chose from these days so whatever the budget there will definitely be one for you. For a subtle and natural looking glow to the face apply some to where the light would naturally hit your face as a primer before your foundation, or all over the  face if you prefer. For a more dewy finish, mix a pump of a liquid luminiser in with your foundation of choice for a beautiful healthy and radiant finish. We are currently loving the Flormar Double Radiance Primer which is super affordable at only €12. This is often referred as a dupe for the hyped up Charlotte Tilbury Wonderglow which is €50, but in our opinion it is much better and more iridescent and even better a fraction of the price.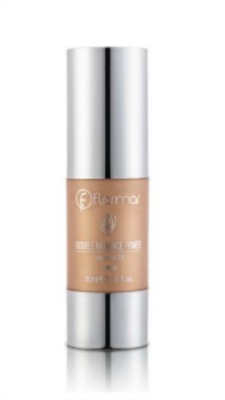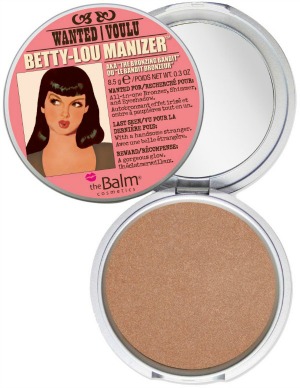 So, after the dewiness is created and the glowy base is set in place it is time to step it up another notch, because why not, it's not often we get to enjoy the sun and unleash our inner golden goddess. Plus, who doesn't love a good highlight these days. Anyways, in summer and while going for the more bronzed and beautiful look we like to use a shimmery bronze highlight rather than the pearl or champagne, paler shades. A good one, and relatively affordable in comparison to many highlights these days is the Betty-Lou Manizer by theBalm which retails for about €20 in most pharmacies or online. With a big fluffy bronzing brush, gently apply a little bit of this bronzing highlight on the high points of your cheeks, around the 3 formation of your face and on your shoulder blades for some added highlight. Alternatively, use a sun shimmer oil such as the Golden Goddess oils by Cocoa Brown. You can gently apply some to your face, shoulder blades and even spread some on your shine bone and shoulders too to look gorgeous and glowing.
Lastly, but by no means least of course one of easiest ways to feel like a glowing beach babe in this glorious weather is to tan tan tan!! Whether you like to wear tan or not, this step is optional but with so many different types, shades and applicators out there it's hard not to want to test and try out what one works for you. Let's face it, a good tan can make anyone feel a little better and brighter, especially in Ireland where the chance of getting a real colour is slim to none. To avoid the 'going out' extreme tan situation we love using the more gradual and often more natural tanners. Not only are these usually in the form of creams and tinted moisturisers, therefore easy to apply but they are also more subtle and can be pulled off as real much easier. Dove do a beautiful one that has a gorgeous deep brown tone and it is literally less than a fiver so how could you go wrong.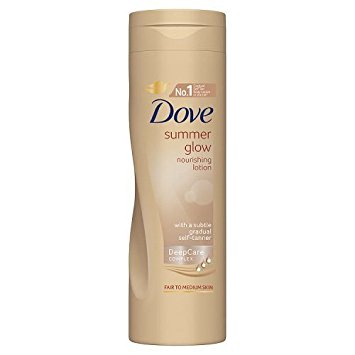 How do you change up your makeup in the sun? Do you wear more or less products and what makes you glow in all the right ways? These are just a few of our favourites but as always, we'd love to learn some of yours.. x