Here at EF Creative studios we are all about the brows. They frame your face and really make a huge difference.
The "scouser" brow made its rounds through the internet and really became a fashion accessory. Not the shape of the brow itself but the idea of brows being as important as eyes or lips.
Now ladies we have all had our fashion faux pas so be kind. I shudder to think of the days were it wasn't "the thing" to do your brows so we left them….good Lord!
We have a new product today we're going to do a little review on and then we'll give you some of our own brows tips too.
Glossiers Brow Boy
What is it? Good question!
The brand itself  was inspired by old fashioned moustache wax when they originally created it. The formula is a creamy pomade which conditions the brow hairs.. What is pomade? Well it's basically like a hair gel type substance except its waxier. This product won't leave you with rock hard brows you would expect using pomade or super shiny eyebrows. You apply it with a small mascara wand (or spoolie) that's included. It's also tinted so it should be the only product you need as it fills, grooms and hold the brow in shape.
There are 3 shades available blond, brown, and black—all with very sheer pigment. This is exactly what you want from a brow product as you can lightly layer. You will be left with polished brows using only one item!
This is available on glossier.com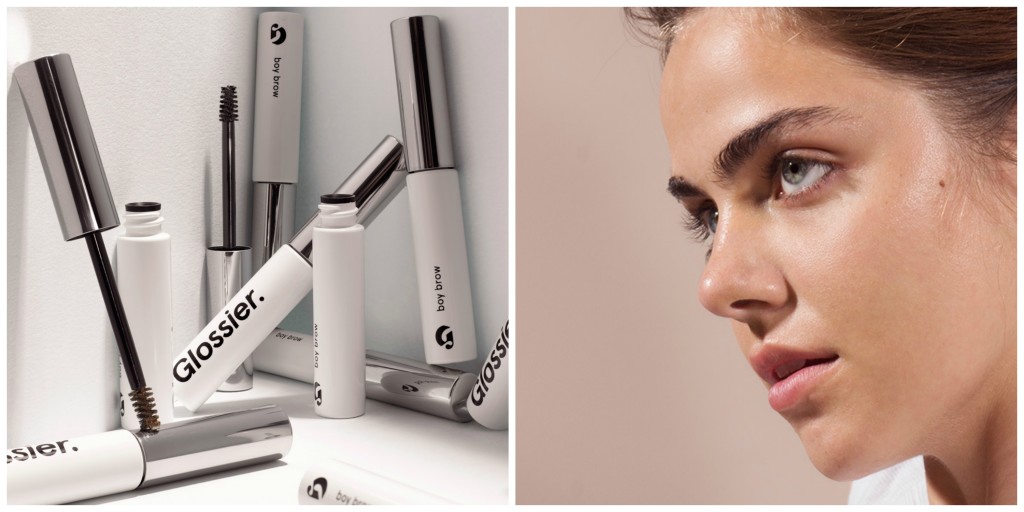 So yes we have all probably read every article we come across on brows. So what else is there to know? This is the million dollar question. There is no rules only guidelines to help you get your brows to being picture perfect.
I asked multi award winning makeup artist and owner of EF Creative studios, Emma Farrell her thoughts, "Brows are moving away from the overly manicured heavily filled in blocky look that has been so popular. We are so glad to welcome a more natural groomed yet full brow."
So here's a few tips on how we create the most enviable brow:
Tinting.
This can be crucial as it will bring up all those little hairs that you think are just over growth. It will also make it far easier to map out the shape you are looking to achieve. This would need to be touched up after about 6 weeks.
Only fill in what needs filling in.
This is where you can run into disaster. This can lead to the overdrawn and stark brow look. There's a huge difference between sharpening the brow on the under curve and drawing on your eyebrow. Resist the urge to darken everything. Especially above the brow.
Find the brow product for you.
Between pencils, gels, mascaras, powder and wax we have tons of choice on what we can use. Pencils are great for starting off and keeping it natural. MAC brow pencil Lingering is a firm favourite of makeup artists. Being a versatile colour and precise in application.
4. Find the shape that suits you.
This sounds fairly simple but this area gives people a lot of trouble. Fashion and trends may dictate what is current and now but a timeless and tailored shape unique for you face shape will always be in fashion. This chart below may help.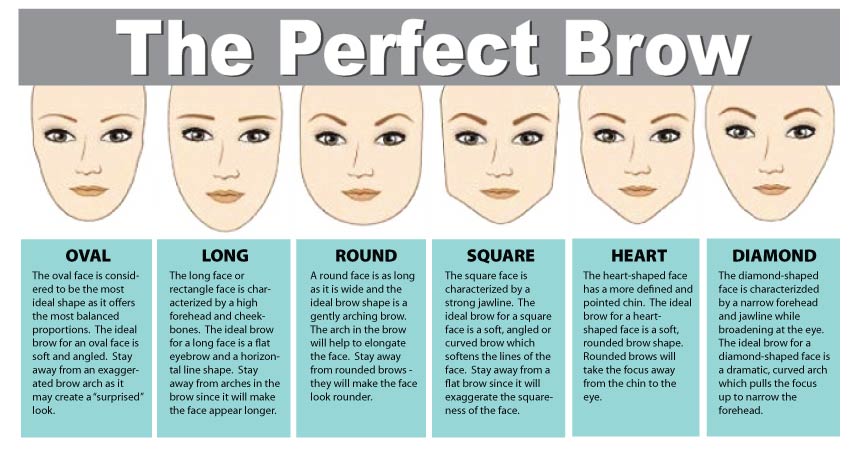 Lastly on our brow raising article.
Straight brows …yay or nay?

We're not talking about a straight line going across each brow bone there is a slight curve but very subtle. This was a big look last year and it looks like it's making another appearance.
Natalie Portman would be my celeb of choice to show off this look. These brows frame her face beautifully and are very natural yet groomed. Jennifer Connelly and Jessica Alba are also fans of the "Boy Brow".
It gives the impression of a more youth look as it accents the brows of teenagers being more natural with less makeup. However it tends to looks best on someone with delicate, small features.