Do you give yourself enough time in the morning to get ready? Do you think ah I can do that when I get into the office? Do you try to save time grooming at the lights during your drive to work?
My honest answers to these questions were yes. I'll be honest since I was the passenger in a car crash I don't take chances anymore. So If I look like a disaster on the way to work ill just deal with it when I get there or… I'll get up on time. That helps a lot!
However Chill.ie recently surveyed 425 people and found out that 30% of you naughty ladies applying makeup while waiting for the light to change. Gloss/lip stick were the makeup of choice followed by foundation and concealer!
Concealer girls??  How?? Like really. I'm a little shocked (and impressed) but how do you look afterwards? Concealed? Im not so sure.
It's not just the ladies though…the men are just as bad. 8% style their hair while 7% shave!!!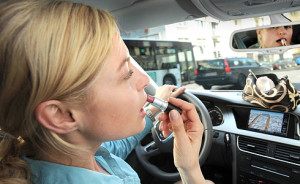 Now, you may say it's not against the law and you would be right but you could be done for "driving without reasonable consideration" This is an open ended offence which give the Garda Siochana freedom to penalise you for not showing what they consider to be minimum due care while driving.
On average most women who wear makeup generally give themselves ten minutes to get it on in the morning.
So using this as a guide I will walk you through a ten minute makeup lesson.
You can't say we don't look after you here at EF Creative studios 😉
First things first ladies put that moisturiser on. This is important and in the long run you'll be glad you did this every day.

Using your sponge, (clean) fingers or brush apply your foundation. A big fluffy brush is great as it blends while applies coverage.

I use my concealer to cover my dark circles (bleh) luckily I don't have blemishes but the lovely blue circles more than make up for that! I highly recommend the Catrice liquid camouflage concealer totally affordable and really packs a punch.

I set my face with Vichy Dermablend 16hour powder. This is one of the only powders that lasts on my oily skin and doesn't look powdery.

Next if your brows need filling, go for it. For a subtle yet groomed look I used wax and powder for during the day. I love the Benefit Brow Zing. I'm literally filling in my patchy places so don't need too much time on these.

I then go in with a quick bit of contour and blush; this is just to give my face some colour as I'm so pale. I'm not trying to be Kim Kardashian by any means.

I finish off with my mascara …two coats always two coats and voila!
Pretty and not a penalty point or unblended line in sight.